Home » News & Upcoming Events
After an absence of over 3 years, we are pleased to announce that we will have an in-person AGM and dinner once again, with details as follows:
Date: November 18, 2022 (Friday)
Time: 6:00 p.m. AGM; 6.30 p.m. Reception; 7:00 p.m. Dinner
Venue: Lobster Port Chinese Restaurant
8432 Leslie Street, Thornhill, ON L3T 7M6, Tel: 905-597-8508
Cost: $70 per adult, $40 for mentee and child under 12.
Deadline: November 8, 2022 (Tuesday)
Registration is now closed.
For additional information, please contact:
Tim Cheng 416-270-9830; tacheng0202@gmail.com, or,
Romeo Au 416-529-3361; romeoyhau@gmail.com, or,
Augustine Chan at 416-930-3666; augustinetoronto@hotmail.com
We will elect the new board of directors and executive committee members for 2022 – 2033 at the A.G.M.
We need new blood for the Board and all members are encouraged to nominate and be nominated for the Board for the coming year.
This is an opportunity to network with old and new friends, HKU exchange students, and to have a fun evening.
Notice of Annual General Meeting
NOTICE is hereby given that the Annual General Meeting of the Hong Kong University Alumni Association of Ontario will be held on Friday, the 18th day of November, 2022 at 6:00 p.m. at the Lobster Port Chinese Restaurant, 8432 Leslie Street, Thornhill, ON L3T 7M6, with the following business to be transacted:-
To receive and consider the Annual Report for 2021 -2022;
To receive and consider the Treasurer's Report;
To elect directors and members of the Executive Committee of the Association for the year 2022/2023;
To transact any other business.
AND FURTHER TAKE NOTICE that any regular member in good standing shall be entitled to nominate another regular member in good standing to the Board of Directors and to be elected to the Board and to cast vote. Any such nomination should be emailed to the Association at: hkuaaont@hku.hk
By the order of the Board of Directors
Agnes Man, Secretary, October 6, 2022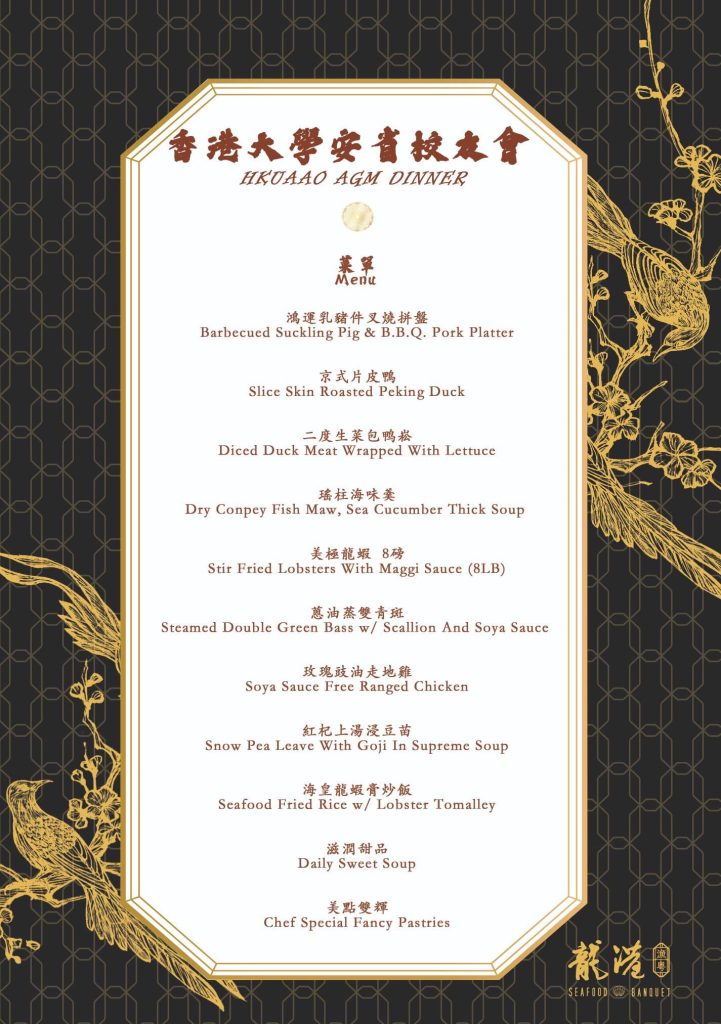 (Please note that HKUAAO AGM dinner is another event, for more information, please click here)
Finally Hong Kong Joint Universities Alumni (Ontario) HKJU will organize a banquet after 3 years (our last banquet was on Oct 6, 2019). We all understand the COVID19 is not over yet, however, it is in a 'stable' condition and we all take high alert to protect ourselves and others. Therefore HKJU committee considers it's time for us to meet again.
2022 HKJU 校友歲末聚餐
Date: Saturday Nov. 12, 2022
Venue: 黃金閣鮑翅海鮮酒家Golden Court Abalone Restaurant
270 West Beaver Creek Rd, Richmond Hill, ON L4B 3Y9
Cost: $55.00
Reception: 6:00 p.m.
Dinner: 6:30 p.m.
Registration Closed: Wednesday Nov 2, 2022
Please register through augustinetoronto@hotmail.com 416-930-3666 or romeoyhau@hotmail.com 416-529-3361
Each alumni association will be responsible 1 performance item in any format, we appeal here to those who are interested and please contact me in the above email or mobile phone.
We look forward to seeing you all to share our experience in the last three years.
Stay safe, happy and healthy.