Nov 24, 2007 Mentor-Mentee Gathering
Click here to view photo album
This year, our association participated in the HKU mentorship program again.  Some of our directors and members act as mentors for a number of exchange students.  We got together at John Liu's residence once again in November 2007.
The gathering has become our tradition to extend a warm welcome to the students.  We enjoyed the quizzes on general knowledge on HKU and Canada.  For those of us who have graduated years ago, it was a real good exercise that reminded us of those good old days.
Of course our hosts, Cecilia and John, never disappoint.  Delicious meals, TV games and karaoke!  What a warm and enjoyable gathering to remember!
Oct 21, 2007 Fall Colors Hiking – Rouge River Conservation Area
Click here to view photo album
On 21st October, by some magic, the weather turned out to be the finest in the month. It was cool with some sunshine and a total of 39 of us, friends and relatives of the association with some exchange students from HK joined the Tai Chi Group for a hiking in the Rouge Valley Conservation Area.
It was a great occasion for getting together, chatting on the way and enjoying the fall colors. Though the leaves were not as red as in the previous year, the weather was dry and it was most entertaining to hear the rattle walking on the fallen leaves along the trail.  It was an easy walk of 8 km and it took us around two and a half hours to finish it.
Oct 14, 2007 Fundraising Canadian Premiere – Traces of a Dragon
Click here to view photo album
The fundraising screening of Jackie Chan's Traces of a Dragon on Sunday, October 14, 2007 for our Chinese Cultural and Heritage Award Fund was a great success.  The film received raving reviews with a big turnout and was an instant hit among Chinese and non-Chinese alike.
The film included a prelude of video clips featuring our Vice-Chancellor Professor Tsui, the director and our HKU alumna Mabel Yuen-ting Cheung, the producer Jackie Chan, and 2 former award recipients   We were honoured to have the Consul-General of the People's Republic of China in Toronto Madame Zhu Taoying, and the Director of Hong Kong Economic and Trade Office Bassanio So as our guests of honour.
July 1, 2007 Hiking – Oak Ridge Trail, Uxbridge
Click here to view photo album
We went for a walk at the Oak Ridge Trail, Uxbridge on July 1, 2007 to celebrate the Canada Day.
It was a warm sunny day with light breezes. A group of 50 alumni and friends were led by our
veteran leader, Thomas Wong, for another outdoor activity. To city dwellers like you and me, this is
a great opportunity to stretch your legs and exercise your muscles. Oak Ridge Trail is a small
section of Oak Ridges Moraine to the northeast of Markham, it took us about 3.5 hours to finish.We then got together for dinner and a glass of wine.
Jun 15, 2007 Bauhinia Gala – Celebrating the 10th Anniversary of Hong Kong SAR Government
Click here to view photo album
Our association has participated in the celebration by sponsoring a table at the Bauhinia Gala held on June 15 at the Metro Toronto Convention Centre. The event was hosted by the Centre for Information and Community Services and proceeds were designated for building an Immigrant Resource Centre.
We have also jointly organized the Hong Kong Spirits Cup Arts and Literary Contest with Chinese U, Polytechnic and Baptist that ended on June 10th, 2007.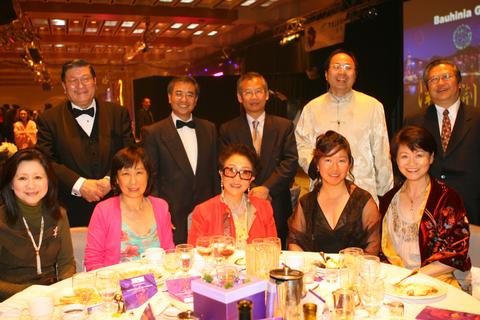 Jun 10, 2007 Dinner with VC Prof. Lap-Chee Tsui
Click here to view photo album
About twenty-two of our directors and alumni had a dinner get together with V.C. Professor Lap-chee Tsui on Sunday June 10 at the Ambassador Chinese Restaurant in Richmond Hill. This time Professor Tsui was in town to receive an Honorary Doctorate from University of Toronto to honor his outstanding achievement.
As usual, Professor Tsui gave us a very thorough update of the development at our alma mater and the campus expansion plan. All of us felt very honored by the presence of V.C. and his endless effort to reach out to the alumni members. However, we felt bad that V.C. did not have enough time to eat and properly digest the food!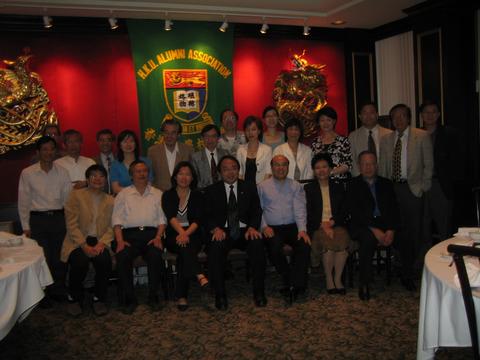 March 18, 2007 Annual General Meeting & Dinner
Click here to view photo album
Annual General Meeting and Annual Dinner were held on March 18th, 2007 (Sunday) at Diamond Banquet Hall of First Markham Place in Markham.  It was well attended by close to 90 members and friends.
At the AGM, a new board of directors for 2007 – 2008 was elected.  Annual Report and Treasurer's Report for 2006 – 2007 were adopted and a resolution for life membership was also passed.
Mr. C.K. Lung (CISSP (ISSMP + ISSAP), CISA) was invited as guest speaker to give us a speech on "Tips and Tricks to Surf and Do Business Securely on the Internet, including Methods to Armour your Computer".  Attendants found it very informative and useful as none of us can avoid using computers or some sort of mobile devices these days yet there are a lot of risks and traps we may not be aware of.
Click here for the full PowerPoint presentation.
Click here to see the entertaining performance by our mentee - singing the song '有隻雀仔跌落水' with the lyrics '香港大學 H K U'
March 2007 Ontario Inter-Collegiate Chinese Debate Competition
Visit www.ocda.net for more details.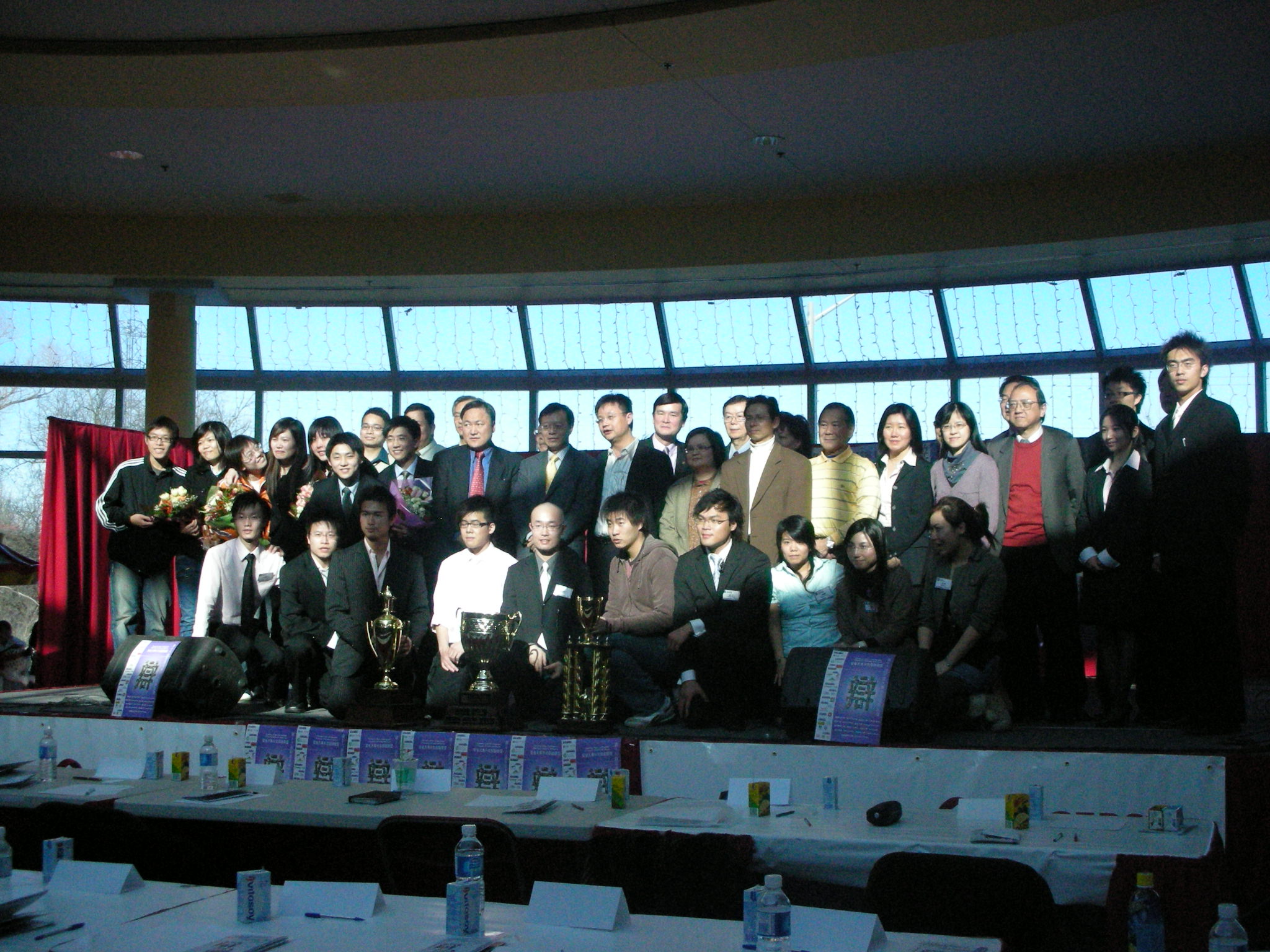 Hong Kong University Association of Ontario has been a proud sponsor of the Ontario Inter-Collegiate Chinese Debate Competition.  This is a competition organized by Ontario Inter-Collegiate Chinese Debate Alliance that consists of eight universities in Ontario.  This year is its 16th anniversary and the champion is University of Toronto.
February 25, 2007 Lunar New Year Walk & Dinner
Click here to view photo album
We went for a walk at the Rouge River Conservation Area on February 25th, 2007 (the eighth day of the Lunar New Year) led by John Liu, our director.  As commented by the participants, this 3-hour hike was the "most refreshing and invigorating".  Weather on that day was extremely mild for mid-February and those who went said they would highly recommend this outdoor activity to everyone.
Next outdoor activity will be around Canada Day in July 2007.