November 5, 2005 Mentor Nite
Click here to view photo album
It was a nice get-together for mentors to meet their mentees.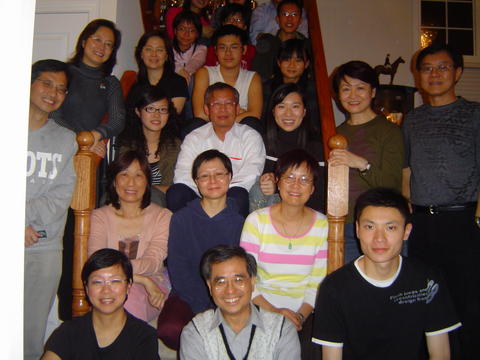 Thanks for John Liu's hospitality to host the event at his residence on November 5th (Saturday). The pot luck dinner was sumptuous and consumed quickly by an appreciative group. Host John put on his karaoke and kicked off with one of his specialty songs which then inspired the mentees to perform with great enthusiasm.
An ice-breaking game designed and conducted by King-fun Siu was another highlight of the evening. Both sides had to demonstrate their knowledge of each other. Some who thought they know their mentee well to their chagrin were embarrassed when they failed miserably, to the howls of laughter and delight of the others. Prizes were awarded to the winners, consisting of Lotto 649 tickets, but no one has reported any winnings or could very well be quietly enjoying their new found wealth in anonymity.
A great fun evening well organized by Jennifer Chua and enjoyed by all. Everyone is looking forward to the next event.
July 23, 2005 Dinner with Prof. Young
Click here to view photo album
Prof. Young visited Toronto recently and had a casual dinner with old friends, colleagues and many students. Prof. Young was Professor of Medicine in the Hong Kong University since 1974 and she was formerly Pro-Vice Chancellor and Dean of the Faculty of Medicine of Hong Kong University. She is world renown in her research and publications in diabetes and endocrinology.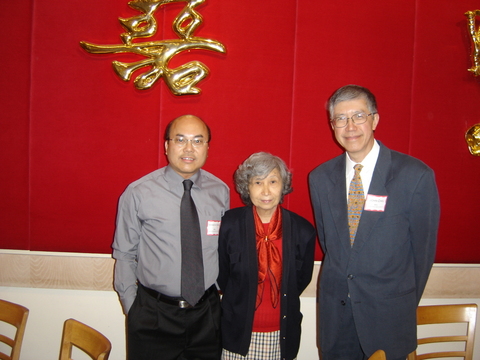 July 10, 2005 Annual General Meeting
Click here to view photo album
The Annual General Meeting was held on July 10th, 2005 (Sunday) at Club 300 Bowl in Markham. Our President, Dennis Au-yeung, presented the Annual Report for 2004 – 2005 and a new Board of Directors for 2005 – 2006 was elected.
This evening was made special as we celebrated the 20th anniversary of our Association in Ontario. Eight past presidents attended the event: our founding president – Mrs. Irene Chu, Margaret Liu, Elsa Chang, Vera Chow, Sammy Lee, Jennifer Chua, K.B. Ng and Tim Cheng. We had a cake-cutting ceremony and made a toast. Mrs. Chu gave us a speech and shared her memories of building a life and roots in Canada. As immigrants to a foreign land, we work hard to earn a comfortable living but then, we often forget things and people that we most cherish. She stressed that we should seize every moment and live a life that is balanced and fulfilled. The audience all agreed that her speech was touching and inspiring. Line-dance was the last program and was enthusiastically participated. It was a great way to burn away some calories and to tune up your musical sense.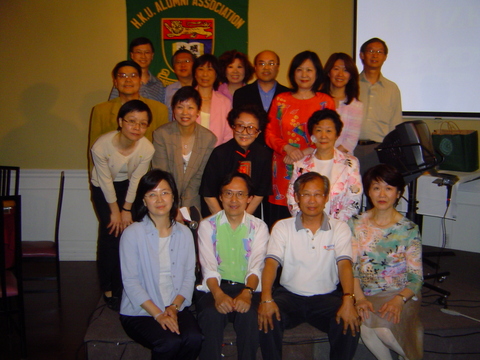 February 27, 2005 Spring Dinner
Click here to view photo album
Spring Dinner 2005 was held at Times Square Dynasty Restaurant in Richmond Hill on February 27th. Around 100 alumni, students and friends participated in this celebration of Chinese tradition. The warmth of getting together was well blended with the excitement of lucky draw and knowledge shared by our speakers.
Dr. Bill Stephens, Deputy Director, and Dr. Albert Yeung, Instructor Research and Evaluation, of Ontario Police College were invited as our guest speakers. It was an informative presentation on police training, changing demographics in GTA and the opportunities of a career in policing for visible minorities.
Sylvia Kim and Dianne Oliphant, exchange students to Hong Kong and OCDA representatives gave short speeches on their experiences. HKU mentees also reminded us of those good old days with the university cheers.
Thanks to all the directors and guests who helped make this year's collection of prizes for lucky draw the biggest and the best!

From left to right: Dennis Au-yeung, HKUAAO President,
Dr. Bill Stephens and Dr. Albert Yeung
Click here to view presentation by Deputy Director Bill Stephens of Ontario Police College
Click here to view HKU cheers performed by the mentees.
2005 Ontario Inter-Collegiate Chinese Debate Competition (OCDA)
HKUAAO has been a proud sponsor of OCDA competition. This year, twenty-four teams were drawn from seven universities across Ontario and final competition was held on March 6th, 2005. The winner is York University in Toronto.
OCDA aims to promote Chinese culture by encouraging university students to debate in Chinese languages.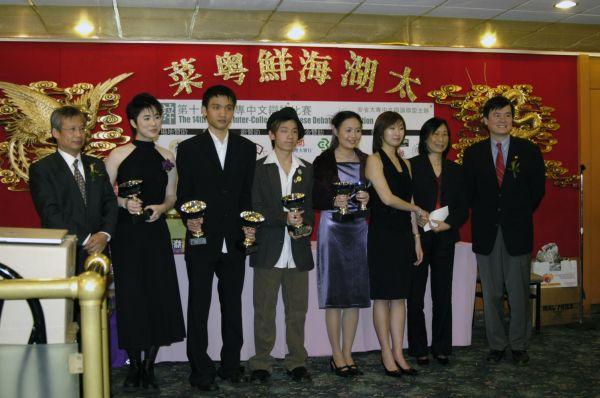 Winning team from York University and adjudicators from our Board of Directors, Sally Chan and Augustine Chan