November 25, 2006 Mentor-Mentee Gathering
Click here to view photo album
Once again, we enjoyed the hospitality extended by John Liu and Cecilia at the mentee gathering they had hosted at their residence on 25th November 2006.  Almost all mentees in southern Ontario and vicinity showed up.  We sang a few folk tunes along with the guitar music played by John, had a few games, shared a lot of fun stories and laughters.
November 2-4 , 2006 HKU global Alumni Convention in Shanghai
The first-ever HKU global Alumni Convention was held in Shanghai, China from November 2 to 4, 2006.More than 600 delegates attended the Convention. About half of the delegates came from Hong Kong and overseas (including UK, USA, Canada Australia, New Zealand, Japan, Malaysia and Singapore) and the rest were from Shanghai and other cities on the Chinese Mainland.
The Convention's theme was "Discover Shanghai . Discover China – Tomorrow Today " <<中國 . 上海 . 今天看明天>>. Through the discovery and re-discovery of Shanghai, the event provided a platform where delegates could gain insights into China's future on the world stage, and determine the role HKU Alumni can play in these critical times of change.  It was also a great networking opportunity and a special time for reunions for many of the alumni amid fine dining and fun activities. The Convention also included site visits and special tours for a closer look at different aspects of Shanghai's development and potential.
Visit www.hku.hk/daao/ for photo gallery and video highlights of the event.
October 9, 2006 Hiking – Seaton Trail
Click here to view photo album
On October 9, 2006, the Association celebrated Thanksgiving Day by hiking a 12 km section of the scenic Seaton Trail which runs through the valley of the West Duffins Creek to admire the splendid fall colours. The participants shared a wonderful time with family, friends and fellow alumni in the trails of the great natures.
August 20, 2006 Annual General Meeting
Click here to view photo album of AGM 2006
The Association held its Annual General Meeting on August 20, 2006. The Board of Directors for 2006-2007 has been elected during the AGM.
During the banquet held immediately after the AGM, Professor C.F. Lee, Pro-Vice-Chancellor of Hong Kong University and Chair Professor in Geotechnical Engineering, gave a talk on the Three Gorges Project in China. Professor Lee's presentation was vivid, insightful and captivating. At the latter part of the banquet, the topic of discussion shifted to the history of the University of Hong Kong. Professor Lee gave another intriguing talk on such history. One has to bear in mind that he had no preparation beforehand!
It was an enjoyable evening and some participants left with the aspiration that they would visit the Three Gorges one day to see with their own eyes the exciting development so vividly described by Professor Lee. Indeed, that's what the new Board of Directors have in their mind as they are planning the various activities in the upcoming year.
| | |
| --- | --- |
| | |
| | Board of Directors 2006-2007 |
June 28, 2006 Dinner Gathering with HKU Vice-chancellor
Click here to view photo album for Dinner Gathering with Prof. Tsui.
Our Association was honoured to have a dinner gathering with Professor Lap-chee Tsui, Vice-Chancellor of the University of Hong Kong, on June 28th at Ambassador Chinese Cuisine. Professor Tsui has been named a Giant of Science by University of Toronto on June 27th.
Click here to view photo album for Giant of Science event.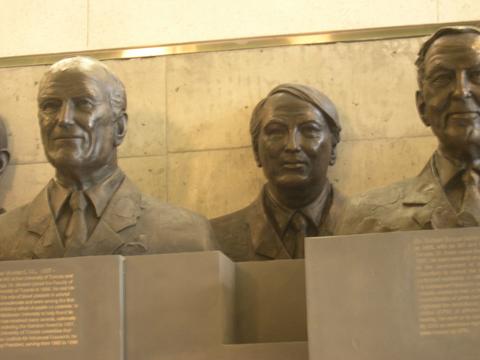 A bronze statue in his honour was installed at the entrance of Terrence Donnelly Centre for Cellular and Biomolecular Research at U of T, along with other Canadian research giants, such as Dr. Best and Sir Frederick Banting.
The gathering was well attended by our directors, alumni and friends. Professor Tsui gave us an update on the development of our Alma Mater that includes the extension of a Centennial Campus (west of main campus) in order to provide more room and support for the development of HKU as a research-led university and the construction of a subway stop on campus.
June 25, 2006 A Walk in the Rouge Valley
Click here to view photo album
On June 25th, our Association organized its first-ever outdoor activity in years! We went for a two-hour walk in the Rouge Valley Conservation Area. Although the temperature was slightly on the warm side, we were greeted by a few breezes and sheltered by the woods along the way. For most of us who stay indoors for work and leisure, it was a great opportunity to enjoy the wilderness and to train up the cardio. This activity is free-of-charge and is open to the public. We hope to see you next time!
April 25, 2006 Hong Kong Gala and "Love in a Fallen City" Musical
Click here to view photo album
Our association is a co-organizer of the Hong Kong Gala on April 25thand "Love in a Fallen City" musical on April 26th.It was a program hosted by Hong Kong Economic and Trade Office and co-organized by sixteen trade and community organizations in Ontario.
The Gala is to celebrate the contributions by people from Hong Kong to the community and economy of Ontario.It was attended by Honorary Senator Vivien Poy and greeted on video by Mayor David Miller who also named April 25th as Hong Kong Cultural and Heritage Day.
This truly was a talk-of-the-town event as Hong Kong Repertory Theatre and other renowned artists such as Tony Leung Ka Fai, Louisa So and Alice Lau flew in from Hong Kong to attend the dinner and to give the musical performance in the following nights.
Love in a Fallen City is a short story written by Eileen Chang – a HKU alumna and one of the most important names in contemporary Chinese literature. Hong Kong Repertory Theatre gave this old-fashioned yet everlasting love story theme a modern touch with intermittent jazzy tunes sung by Alice Lau. The flawless performance was greeted by a standing ovation at the end.
February 12, 2006 Spring Dinner
Click here to view photo album
Spring dinner was held on February 12th, 2006 (Sunday) at Times Dynasty Restaurant, Richmond Hill.
Professor Kwong-loi Shun, Vice-President & Principal, University of Toronto at Scarborough attended dinner as our guest speaker. He delivered a speech on higher education – comparing the university systems in Canada, U.S., Britain and post-colonial East Asia, with some relevance to the transition in Hong Kong. Audience found his speech informative and full of insight. Professor Shun is a distinguished scholar and had been a Professor of Confucian Philosophy at UC Berkeley prior to joining U of T in 2004.
To celebrate Chinese Valentine's Day (the fifteenth day of the first month) which happended to be the same day of Spring Dinner, we enjoyed a round of Chinese riddle. It was entertaining and a great way to re-acquaint ourselves with traditional Chinese language and culture.
Mentees from Hong Kong also came up and shared with us their feelings and opinions on their short stay in Canada.
Lucky draw was held at the end and a lot of us went home with a smile and hands full.