Oct. 11 -13, 2002 HKUAA North American Joint Function in New York
A group of over 30 Ontario alumni, families and friends travelled to New York to support the North American Joint Function. It was a trip filled with activities and fun. The re-union dinner was held at the Peking Park Restaurant in Manhattan and was attended by many alumni from New York, Boston, Washington and California. Distinguished guests include Sarah Wu and Jacqueline Willis of the Hong Kong Government Trade Office in the U.S.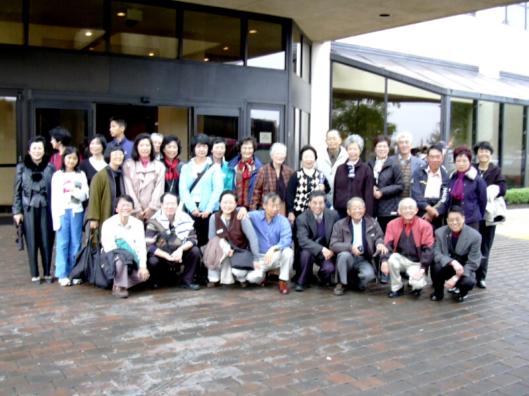 Group photo of our alumni in front of our the Hotel in New York
July 27, 2002 Annual General Meeting & Joint University Alumni Dinner Dance
The Annual General Meeting was held on July 27,2002 at the Richmond Hill Country Club. The following Advisors and Board of Directors were elected for the term 2002-03:
| | |
| --- | --- |
| Advisors: | Irene Chu (Arts), Peggy Sum (Arts) |
| President: | Tim Cheng (Science) |
| First V.P.: | Jennifer Chua (Soc. Sc.) |
| Second V.P.: | King Fun Siu (Medicine) |
| Secretary: | Lily Lee (Dip. Ed) |
| Treasurer: | Barry Po (Soc.Sc.) |
| Cultural Fund: | Sally Chan (Arts) |
| Membership: | Dennis Au-Yeung |
| Editor: | Loretta Hoi (Soc. Sc.) |
| Overseas Director: | Evelyn Man (Arts) |
| Directors: | Augustine Chan (Arts) John Liu (M.Soc.Sc.) Warren Chiu (Soc. Sc.) |
| Immediate Past President: | K.B. Ng (Law) |
Some of our alumni with Professor and Mrs. Tsui Lap-Chee
Our sincere appreciation for the valuable contributions by the following retiring directors: John Chan, Sammy Chan, Kristine Lai, Eddie Law and Sammy Lee.
The AGM was immediately followed by a Dinner Dance jointly organized by the Alumni Associations of HKU, CU, Polytechnic, Baptist and Lingnan Universities. Over 200 people attended, including 70 HKU alumni and friends. A speech by our Vice-Chancellor, Professor Lap-Chee Tsui, on gene regulations was the highlight. We were also honoured to have Ms. Bernadette Tsui and Ms. Janet Chung from the Development and Alumni Affairs Office of HKU and Dr. Evelyn Man attending.
The Annual Spring Dinner was held on February 24, 2002 at the Times Dynasty Restaurant in Richmond Hill. There was a good turnout with over 80 people attending.
Our guest speaker was Professor Charles Wong, a retired academic from Beijing Sports University. He gave a speech on "How to be Healthy and Fit". Mrs. Rosanna Ure, Director of the Hong Kong Economic and Trade Office, also attended the dinner. Representatives from the student exchange offices of York University and the University of Toronto, HKU Ex-staff Association, Baptist and Lingnan University Alumni Associations were also present. Our mentees (current HKU students on exchange program in Ontario) led a quiz game to test our knowledge of recent development at HKU and managed to draw enthusiastic participation.
The Alumni Association had been actively supporting the HKU mentorship Program. Each year, a number of current HKU students were exchanged to Ontario universities for one or two semesters to enable them to broaden their horizon and learning experience. A number of our alumni members volunteered as their mentors during their stay to make them feel more at home. The Association invited the "mentees" to the annual spring dinner and it proved to be very successful – the mentees had the opportunity to meet many of their "seniors" and us, in turn, were entertained and energized by their performance and enthusiasm.
2002 Ontario Inter-Collegiate Chinese Debate Competition
Each year our Association was the scholarship sponsor of the Debate Competition. In addition, many of our alumni members volunteered as judges for the different rounds of the competition. It was time worth spent!