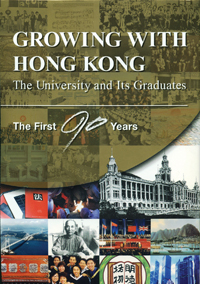 Growing with Hong Kong
The University and Its Graduates—The First 90 Years
與香港一起成長:港大九十年傳承故事
The book witnesses and chronicles the 90 years wherein the University of Hong Kong and its graduates were intimately engaged in the development of Hong Kong. The numerous episodes, portrayals and photos about the graduates of HKU vividly delineate the world of metropolitan and cosmopolitan intellectuals during the many-splendoured years of Hong Kong's development.

Produced by Development & Alumni Affairs Office, The University of Hong Kong
Published by Hong Kong University Press

First published October 2002 (4000 copies)
Reprinted January 2003 (3000 copies)
ISBN 962 209 613 1

All rights reserved. No part of this publication may be reproduced or transmitted, in any form or by any means, electronic or mechanical, including photocopy, recording, or any information storage or retrieval system, without prior permission in writing from the publisher.