A Man of Two Cities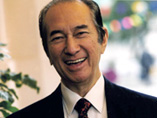 In the 1970s, the local property market began to experience significant growth. Despite occasional downturns, it continued to prosper for nearly three decades until 1997. Although few HKU graduates have entered the real estate industry, those that did have become key figures in real estate development companies or agencies and others have played an important role in the SAR government¡¦s regulatory body for real estate.
Dr Stanely Ho plays a prominent role in real estate development. The founder and Group Executive Chairman of Shun Tak Holdings Ltd, he has also been the President of The Real Estate Developers Association of Hong Kong since 1984.
Dr Stanely Ho's path to success is legendary. He was born into a rich family in 1921 but was thrown into poverty when his father's business failed in the early 1930s. His studies at the HKU were interrupted by the Japanese occupation of Hong Kong. He flew to Macau in 1941, where he started to build his business empire.
| | |
| --- | --- |
| [Left] | Dr Stanley Ho pictured with Dr Rayson Huang and Dr Hui Wai-Haan of The Science Society, 1941 |
| [Right] | Stanley Ho as student, 1940 |
Upon winning the Exclusive Gambling Franchise in Macau in 1961, Dr Ho founded Sociedade de Turismo de Diversões de Macau, S.A.R.L. ("STDM"). He and his company have played a crucial role in the modernisation of Macau. He is also the Managing Director of Sociedade de Jogos de Macau, a subsidiary of STDM which was awarded a Gaming License when the industry was liberalised in 2002. In recognition of his contributions to Macau, Dr Ho had an avenue named after him, and was awarded the Gold Lotus Medal of Honour.
His investments span the world, including China, with diversified interests in hospitality and entertainment, shipping and infrastructure, banking and property development, airport and airlines, as well as in the media, education and culture. Shun Tak Holdings Ltd is his flagship company in Hong Kong.
Dr Ho is actively involved in philanthropy and community services in the region. He was a member of the HKSAR Basic Law Consultative Committee, and a Vice-President of both the Macau SAR Basic Law Drafting Committee and Preparatory Committee. He has been decorated by various governments overseas, including the United Kingdom, Portugal, France, Spain, Japan, Malaysia, and the Vatican.
Cited from:
The University of Hong Kong. Growing with Hong Kong: The University and Its Graduates ¡V The First 90 Years. Hong Kong: Hong Kong University Press, 2002, p.189-190.